I'm the official photographer for the annual 
San Francisco International Hiphop Dance Fest
, now in its 20th year. My photos have been used in the design of the programs, clothing and promotional material, including ads on the side of SF Muni buses in 2011 and 2014-2018. Come see this amazing show in November.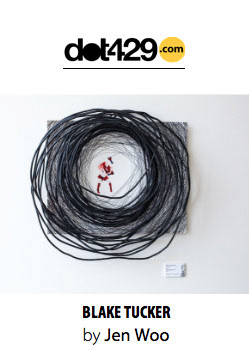 I was the featured artist in an article in 2013. Click the picture to read.
Open Studios
September 14-16, 2018
Friday 7pm-11pm, Sat-Sun 12pm-5pm
Art Explosion Studios #334
744 Alabama Street, San Francisco
Humphry Slocombe Ice Cream
A 6-piece continuing partnership
2790 Harrison Street, San Francisco
Sutter Pacific Medical Foundation
My work is now a permanent part of the art on display at Sutter Pacific health centers in the bay area.
The San Francisco Lesbian Gay Bisexual Transgender Community Center & Queer Cultural Center Present
Three floors of work by Blake Tucker:
"Show Yourself: The Exhibit"
"Show Yourself: Outtakes and Reprints"
"Men of the San Francisco Spikes"
Included Opening Reception and Artist Walkthrough
A 2011 Lambda Legal event & group show
Including Show Yourself: The Preview
At the San Francisco LGBT Center
Lambda Legal 2010 San Francisco Benefit
San Francisco Airport Museum presents
Blake Tucker's "Into The West"
Terminal 1, Central South Connector
August 2009 - February 2010
December 2007 - March 2008
Art Explosion Open Studios 2013-2018
South Beach Artists Open Studios, 2011-2012
California Street Open Studios, 2010
ArtSpan Open Studios at Nervous Dog Cafe, 2008, 2009
Chillin Productions Holiday Show, 2013
ArtworkSF Group Shows, 2006-2011
San Francisco cafe shows since 2005
"Show Yourself (The Preview)"
Berman Skin Institute, 2009
2009 San Francisco Spikes Calendar Release Fundraiser
"Men of the San Francisco Spikes Exhibit"
Squat and Gobble #2, 2006
"DEN: Waiting Out the Delay"
Spike's Coffee & Tea, 2007
Citizen Cupcake at Virgin Megastore, 2006
Claremont Resort Artisan Fair, 2005